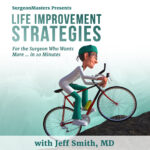 Pump the brakes on your week and take 10 minutes to make your life as a surgeon just a little better…
Jeff welcomes to the podcast Dr. Dana Corriel, a board-certified internist and the founder of SoMeDocs.
Dana strongly believes that all physicians can positively impact their careers by embracing social media the right way. It's just another tool that needs to be used correctly. As surgeons, we're very familiar with taking risks. The key is to understand the risk, its benefits and alternatives, and then make an informed decision.
Social media is here and it's here to stay. Physicians who aren't using it are missing out on potential patients, speaking engagements, and other opportunities to leverage their intellectual property. You need to decide for yourself – what is your reason for engaging in social media? And it's OK if you don't have an answer right away! But this question will help inform how you approach social media.
What does Dana suggest we do to integrate social media into our practices?
Suggestion 1 – No matter what stage you are in your career, you can use social media to enrich your practice and leverage what you do know.
Suggestion 2 – No matter how much you think you know (or don't know) about social media, that is exactly where you should start to build your social presence.
Most importantly, start practicing to build or grow your social media brand and mission!
---
Dana Corriel, MD
Dana is a board certified internist (with 14 years in practice), digital healthcare expert, and founder of SoMeDocs, or Doctors on Social Media, which is an online platform fueling healthcare innovators.
Visit SoMeDocs to learn more and participate.
Having personally experienced career growth through her own online endeavors, Corriel now helps build thought leaders through somedocs resources, which include community networking, lecture series, & marketing of intellectual property through the creation of curated series, courses, and projects. SoMeDocs has served as the spark for physician thought leaders, many of whom successfully occupy top healthcare position, appear in influential outlets, and accomplish feats doctors never thought could have be possible for them.
Dr. Corriel has earned various recognitions, including Top Ten Internists to Follow on Twitter by Medical Economics and Top 20 Social Media Physician Influencers by Medscape. She has appeared in major outlets including LA Times, Gastro & Endo News, MDMagazine, The Boston Globe, Huff Post, Medscape, and EP News. Serving as guest faculty at conferences (including yearly at Harvard's Healthcare Writers' Conference) has been especially meaningful for Corriel, who values opportunities to pass on her skills through large projects. She led her own successful Writer's Summit in Feb 2021, and plans to lead more.
Dr. Corriel is skilled in online personal branding, strategy, and unique digital creations/marketing. In addition to running SoMeDocs, she serves as consultant to various startups, using creativity to help ventures stand out. Her dream is to ultimately inspire innovation through out of box thinking, and to play an instrumental role in facilitating connections between health experts and the general public.