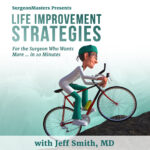 Pump the brakes on your week and take 10 minutes to make your life as a surgeon just a little better…
Jeff welcomes to the podcast physician and entrepreneur, Dr. Michelle Mudge-Riley. Michelle has spent more than 16 years assisting physicians with career strategy and transitions.
Many physicians are afraid when they start to feel that a career in medicine isn't what they want to do – often because we're not really taught that there are other options available to us. But it's important to remember that transitioning careers (even for physicians) is very normal, especially as we all live longer. In fact, according to research by the Department of Labor, most people have 5-7 career changes throughout their lives.
What steps does Michelle suggest we do to approach career transitions?
Step 1 – Get Started. Don't worry about being perfect (I know this can be hard for a lot of physicians!). Sit down with a piece of paper and try to identify where you want to be career-wise in 1 year, 3 years, and 5 years.
Step 2 – Write / Edit Your Resume! Start getting down on paper what you've done professionally.
Step 3 – Get on LinkedIn. Build out your profile and start networking.
Most importantly, start practicing your transition!
---
Michelle Mudge-Riley, DO, MHA
Michelle is a physician and entrepreneur. She runs 4 different businesses and has spent over 16 years assisting physicians with career strategy. The doctors she works with are interested in using their degree in a non-traditional way, exploring a non-clinical career, optimizing their skills and passions within their career and rediscovering meaning and purpose in their work. Dr. Mudge-Riley was called the "Doctor's Doctor" in a 2010 book she co-authored because of her success in working with other doctors. The book is titled Physicians in Transition.