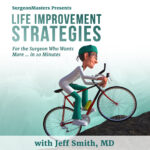 Pump the brakes on your week and take 10 minutes to make your life as a surgeon just a little better…
Jeff welcomes to the podcast psychologist, success coach, and international best-selling author Dr. Sharon Grossman.
There are many factors that contribute to physician burnout – from system-wide issues, to internal demands that we place on ourselves. Because physicians are often high achievers, we often tend to push ourselves really hard. We're constantly focused on doing, giving, and providing. In doing so, we sometimes forget to take care of ourselves.
Emotions are contagious. If you're surrounded by people who are irritable, you are likely to start feeling irritable yourself. Similarly, if you're irritable, you may start infecting others around you. With that in mind, it's important to try and control our emotions. A great way to do that is try to depersonalize situations.
What steps does Sharon suggest we do to avoid becoming irritable?
Step 1 – Assume it's not about you. When you start getting irritated with another person, assume the issue is not about you – because it's probably not!
Step 2 – Ask yourself what it's really about. Listen without interrupting and try to understand where the other person is coming from.
Step 3 – Put yourself in the other person's shoes. Don't get defensive and work to empathize with the other person's viewpoint.
Most importantly, PRACTICE taking control of your emotions!
---
Sharon Grossman, PhD
Dr. Sharon Grossman is a psychologist, success coach, and the author of the international bestselling book, The 7E Solution to Burnout: Transforming High Achievers from Exhausted to Extraordinary. For the past 19 years, she has coached physicians who are struggling with anxiety, overwhelm, and burnout. She works with them using her Exhausted to Extraordinary™ Method to break through the mental fog, boost their energy levels, and enjoy more of what matters in 90 days. Visit her at: www.drsharongrossman.com