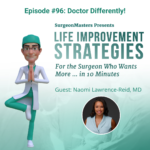 Pump the brakes on your week and take 10 minutes to make your life as a surgeon just a little better…
Jeff welcomes to the podcast board-certified pediatrician and founder of Doctoring Differently®, Dr. Naomi Lawrence-Reid.
Doctoring Differently® is focused on teaching physicians that they can create the lives and careers that they deserve. Many physicians are unaware of the plethora of professional options available to them. We're often taught that there are only a few career paths to choose from. But there are so many alternative options that can lead to better, more fulfilling careers.
What steps does Naomi suggest we do to build the careers of our dreams?
Step 1 – Understand that there are no rules for a career in medicine. The traditional career paths are not the only ones available.
Step 2 – Survey your career options. This can include opportunities inside and outside of medicine. Explore what others have done and even what no one has done before.
Step 3 – Begin the process that will create the career that you want. Take action and pursue the career of your dreams.
Most importantly, begin to PRACTICE doctoring differently!
---
Naomi Lawrence-Reid, M.D.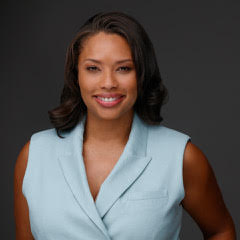 Dr. Naomi Lawrence-Reid, M.D. is a board-certified pediatrician and founder of Doctoring Differently®, a company uniquely centered around educating and supporting physicians in their pursuit of unconventional clinical and non-clinical career paths. Dr. Lawrence-Reid created this platform after personally exploring many of the flexible and lucrative job opportunities that physicians are not taught at any point in medical education.
She now utilizes her unique methodology to educate physicians on creating careers that prioritize their individual interests while promoting lifelong curiosity, creativity, and satisfaction in medicine.
Dr. Lawrence-Reid is a proud Boston-area native now warmly based in San Diego, California. She is a graduate of Wake Forest University, University of Massachusetts Medical School, and she completed pediatrics residency at the Children's Hospital at Montefiore/Albert Einstein College of Medicine in Bronx, New York. She has served as a staff physician at Rady Children's Hospital, Kaiser Permanente, and various other southern California hospitals. In addition to Doctoring Differently®, Dr. Lawrence-Reid is owner and medical director of NLR Med Aesthetics and she remains a vocal advocate for health and safety policies that protect the children of San Diego county.