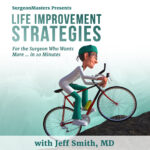 Jeff welcomes to the podcast psychologist, success coach and author of the international bestseller, "The 7E Solution to Burnout" – Dr. Sharon Grossman.
In her book, Dr. Grossman offers strategies for people in high stress professions (particularly physicians) to be able to coach themselves through burnout. Many people don't have a firm grasp on the symptoms of burnout. As a result, they're unable to accurately self-diagnose burnout and get the help they need.
There's also a stigma around burnout – especially in the medical community, which prevents physicians from admitting they're burned out. It's important to understand that burnout is nothing to be ashamed of. It's not the result of a moral failing or something you did wrong.
One of the most common symptoms of burnout that doesn't get enough attention is irritability.
What steps does Dr. Grossman suggest we take to reduce our irritability?
Step 1 – Identify your thoughts and feelings. If you find yourself feeling irritable, recognize that it has to do with the way you're thinking. The thinking pattern that's aligned with irritability is using the word "should" (how a situation should be different, or how an individual should be behaving). This type of thinking guarantees irritability. Ask yourself how you want to feel about a given situation. You have a choice in the matter!
Step 2 – Consider your coping mechanisms. A glass of wine after a long shift (or a cup of coffee before an early shift) can be great, but don't rely too heavily on these band-aid approaches to high performance.
Step 3 – Start decreasing irritability by focusing on what you can control.
Most importantly, PRACTICE recognizing the signs of burnout!
---
Sharon Grossman, PhD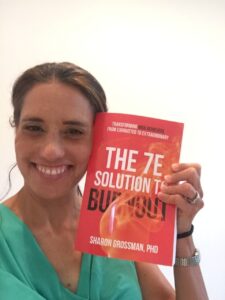 Dr. Sharon Grossman is a psychologist, success coach, and the author of The 7E Solution to Burnout: Transforming High Achievers from Exhausted to Extraordinary. For the past two decades, she has coached physicians struggling with anxiety, overwhelm, and burnout. Dr. Grossman works with them to stay calm, even in situations that are seemingly scary, to effectively manage the demands on their time, and quickly bounce back from adversity. Visit her at: www.drsharongrossman.com