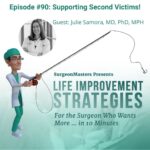 Pump the brakes on your week and take 10 minutes to make your life as a surgeon just a little better…
Jeff welcomes to the podcast Julie Samora, MD, an orthopaedic surgeon at Ohio State University.
Second Victim Syndrome can impact any surgeon when a patient experiences a bad outcome.
Many healthcare providers who make a medical mistake or are involved in a bad patient outcome feel guilt, shame, and anxiety. Some even develop PTSD. All of this can lead to burnout and other adverse effects down the road. Thankfully, there are effective ways to deal with and mitigate Second Victim Syndrome.
What steps does Julie suggest we do to support second victims?
Step 1 – Offer support and counseling. Allow healing.
Step 2 – Analyze and learn from the mistake. Allow growth.
Step 3 – Openly discuss mistakes with someone who can understand the situation (a loved one or a colleague). Allow connection.
Step 4 – Examine the system and not the individual error. Allow team growth.
Step 5 – Focus on provider wellness. Allow recovery.
Step 6 – Implement culture changes and the system level so surgeons don't feel victimized. Avoid shaming and blaming.
Most importantly, PRACTICE any of these to support Second Victims!
Learn more from Dr. Samora in her AAOSNOW Editors Message from October 2021.
---
Dr. Julie Samora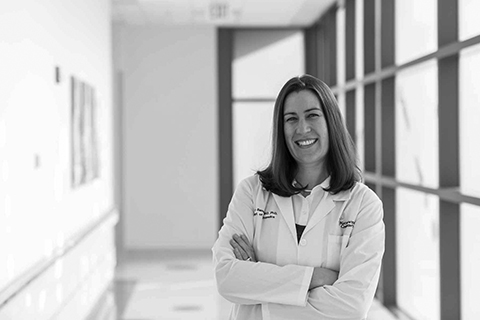 Dr. Samora is a pediatric hand surgeon at Nationwide Children's Hospital, where she is Medical Director for Safety for the hospital, and director of quality improvement within the department of orthopaedics. She received her orthopaedic training at Ohio State University and completed a fellowship in hand and upper extremity surgery at Harvard.  She earned a Bachelor of Fine Arts at Carnegie Mellon University, a masters of music at Yale University, and an MD/PhD at West Virginia University, where she concomitantly earned masters degrees in public health as well as public administration.  Dr. Samora is on the board of directors of the Pediatric Orthopaedic Society of North America and is president of the Ruth Jackson Orthopaedic Society. Dr. Samora has a passion to provide safe, efficient, culturally-sensitive, and excellent patient care, focusing on best practices and quality improvement initiatives.