Who is supporting your best?
Hire a physician coach to engage in a confidential partnership established to achieve your goals. SurgeonMasters coaches specialize in understanding physicians—because we're physicians too. Our coaching services differ because we've experienced the same stress and conflicts that arise with balancing work, personal life, and professional aspirations. Find your coach! 
Why hire a physician coach?
The physician coaching partnership is unique. A physician coach has the firsthand career and life experience, combined with training as an executive style coach. Coaching is client-centered and tailored to accomplish your goals. Here are some of the ways we can work together to get you where you want to be:
Gain perspective and clarity around personal or professional challenges.

Discuss interpersonal relationships key to success.

Examine leadership and decision-making in team environments.

Weigh career-defining decisions and see yourself making progress towards your goals.

Implement wellness habits that prioritize self-care for better work-life balance.

Create improvements in clinical efficiencies or the operating room. 
Are the long hours, lack of support, and pressure of taking care of patients preventing you from reaching your personal and professional goals? You're not the only one feeling this. Surgeon coaching offers a way to process your thoughts and make lasting changes to feel satisfied in your career and personal life. Our coaching programs are designed to create awareness in an environment where ideas, feelings, and emotions can flow without fear of repercussion.
Surgeon Coaching Testimonial
How did your physician coach support you?
"No one tells you how to run a practice, let alone how to start a program from scratch without any senior guidance. Having a sounding board for how to grow my practice was invaluable. My coach helped me realize some of the personal goals and personal vision that I've had for myself as a surgeon. 
Sometimes it's also great to hear that what you're going through is normal. Medicine can be very isolating."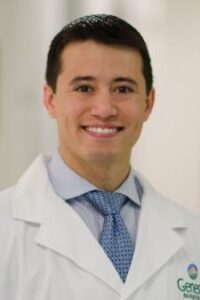 Choose the coaching package for you.
Coaching sessions take place on a phone call, via video conference, or in-person.
Physician Coaching services consist of 6 or 12 coaching sessions. 
Here's what you get with the SurgeonMasters standard physician coaching package:
55-minute coaching sessions.
Trained executive PHYSICIAN coach.
Powerful questions to deepen the critical thinking process.
A sounding board to share ideas and to develop strategic plans. 
A pledge from your coach and SurgeonMasters to 100% confidentiality. 
Start your coaching partnership today!
Other Physician Coaching Packages
The Core Drivers Coaching Program is a three part surgeon coaching program to develop self-awareness and learning points. The purpose is to develop a deeper understanding of ourselves, and how we interact with others, to leverage our best self.
Develop a greater awareness of your most important leadership traits. Create a plan with your coach to leverage your innate leadership traits. 
What have you enjoyed most about working with a physician coach?
Schedule a Complimentary Introductory Call!
Moving. Forward. Together.