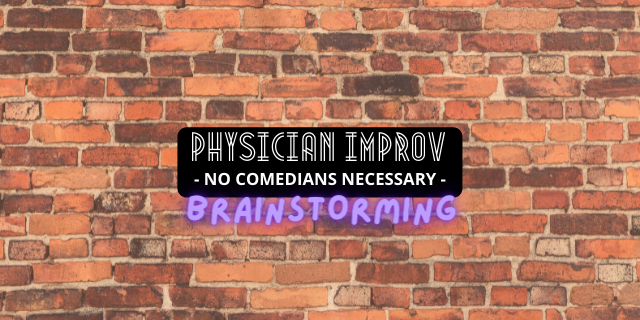 Physician Improv – Brainstorming – No Comedians Necessary!
No comedy skills needed! Introverts and extroverts should apply! Just come with an open mind to learn and grow. To be truly learning and thriving, you should be willing to be comfortable in the uncomfortable.
For beginner improvisors, coming up with ideas feels like the hardest part. In this session, we'll practice techniques to unlock your brain from strict patterns of thinking that limit idea-making. Participants will practice essential brainstorming skills like free association, making connections, building on your team's ideas, and eliminating mental blocks. Participants will develop techniques that encourage them to speak their mind without holding back out of fear – an essential skill for being an active contributor in any team! Participants will learn the key words of any improvisor's toolkit, "Yes, and," and how they can make you a better partner in improvisation and in teamwork.
To register, you must be an active or formerly practicing physician.
Session III: Brainstorming – May 18, 2023, 8:30 pm Eastern, 5:30 pm Pacific
About the Facilitator
Katie Klein is a Second City alumni who has written and performed in two reviews. She currently performs every Wednesday night at the Annoyance Theater in Chicago with the improv team Superhuman. You may have seen her in commercials or on TV shows, including The Red Line, Shrink, Joe Pera Talks with You, Chicago Justice, and Work in Progress. She has worked for many years as a writer, facilitator, and designer of corporate communication training for different organizations and loves it.