When I started my coach training program, I was seeking an exit strategy from the nonsense in the healthcare system. I was tired and I had the feeling that things weren't going to change for the better anytime soon. I was inspired to be a coach by Atul Gawande's book, Better, because I still wanted to help my colleagues and positively impact patients. His vision of a coach in the operating room allowed for that. I set aside my hesitation and enrolled in coach training, viewing coach training as an educational opportunity. 
When I started coach training, I noticed how uncomfortable I was outside the healthcare space, and how messed up our "world" is compared to many others.  I was learning a whole new skillset and had a group to support me rather than criticize me while I grew on my own terms. There were times when I wished I had a few more physician counterparts in training, but it was an eye-opening experience. The most important thing training taught me was to think about things differently. I developed a new approach for things I had done hundreds of times. 
There are many benefits to Physician Coach Training. Here are three specific benefits I would like to share with you.
Community of Colleagues for Peer Support
One of the awesome things about Physician Coach Training is the supportive community of physician peers. We're all there with a common bond around coaching. The coaching mindset is a real thing. The International Coaching Federation (ICF) defines the coaching mindset as one that is open, curious, flexible, and client-centered. During coaching practice we have an opportunity several times a month to practice coaching and receive coaching in a positive learning environment with other physicians. When we receive coaching, we spend time with someone who focuses their attention on helping us. On the flip slide, when we practice coaching, we get to help others with personal goals, habit adjustments, or challenges they face.
Leadership Development for Personal Growth
Coaching can be used in leadership formally or informally. We often think of executives as having coaches who support them in stressful, high-risk positions. However, coaching can also be used informally by leaders to support and help others to be their best. When leaders use coaching informally, they put others in charge while maintaining guard rails of accountability. As a result, a leader will gain a true partner on the path to organizational success. During coach training we practice coaching skills like active listening and asking open-ended questions that improve our ability to lead others. Physicians are well-versed in mentorship and teaching. These are cultural norms at every level in medicine. However, coaching skills are not emphasized or taught and are much more about empowering others to find answers themselves instead of giving them answers.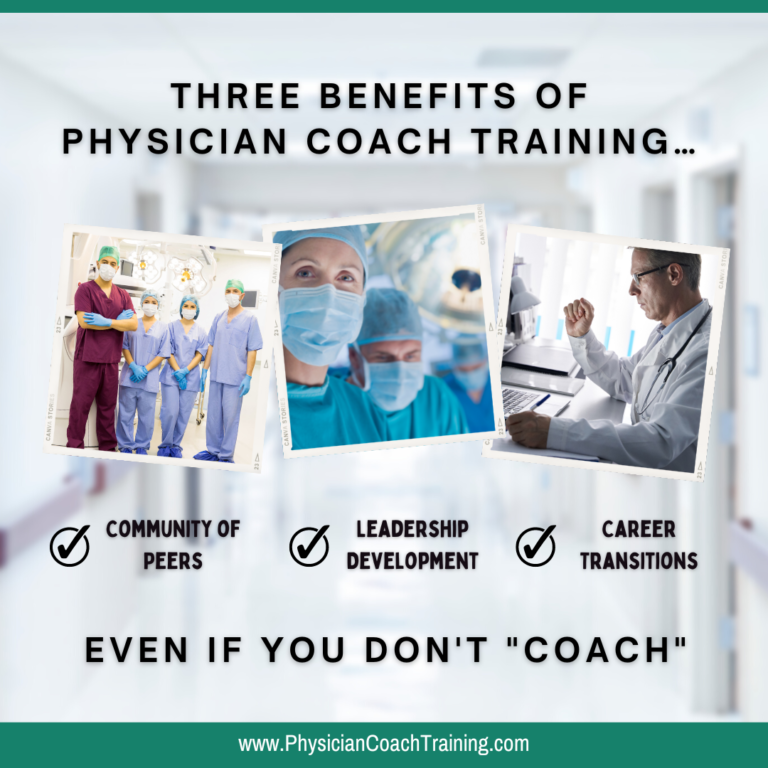 Sounding Board for Career Transitions
Surgeons go through many transitions during a career. From medical school to our first job and beyond, we often encounter decisions that require reflection and can benefit from a knowledgeable, empathic, and confidential ear. That's what we find in coach training. Coaching practice is a reflective space for listening, feedback, and insight. In the coach training space we get to bring real issues to the table to work on with another coach. Our coach helps us reflect and move items forward. When we practice coaching, we work on skills that help move our own career forward. The ability to ask powerful questions, summarize, and reflect feelings are skills that don't come naturally to most of us. And all of us can improve these important skills with deliberate practice.
These are just three of the many benefits of Physician Coach Training. If you're interested in learning more about how Physician Coach Training can help you grow personally and professionally, reach out to SurgeonMasters to learn more!