How High Performers Get Even Better
When Tom Brady was taken in the 6th round of the NFL draft, no one thought he would one day be considered the greatest of all time. Rarely do 6th round QBs even make the active roster, let alone win more rings than ANY OTHER professional football franchise. There's no doubt that in Brady's career he encountered many players with greater physical talent, yet he's accomplished more than any of them.
It brought me back to a question I think about often – when we've reached that "pro" status, how do we go from very good to great?
When our margin for improvement in the technical aspects is the slimmest, how do we continue to improve? I have two theories…
How We Practice Matters
It's not simply a matter of IF, but HOW we practice that matters.
Frequency of practice is not a one-way ticket to success. We have to practice deliberately.
As surgeons, we've received a great deal of technical training – through medical school, residencies, fellowships, and practice. In the bluntest terms, we know how to cut someone up and sew them back together. But it's often intangibles or factors outside of the operating room that can make the biggest difference between a good surgeon and a great surgeon. Issues that have been ignored or treated as insignificant in training compared to the technical skills we have to master.
But issues like sleep, interpersonal communication, and running the financial side of a medical practice affect sustainability in a surgical career. Are you paying attention to how sleep deprivation impacts you? Likely not until your health is impacted.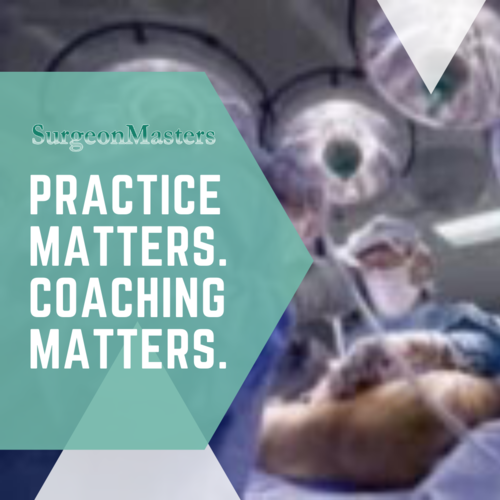 Coaching Matters
When I say "Coaching Matters," I'm speaking in more general terms. Sure, the structured, formal process of coaching is an effective means of individual improvement. But I also mean "coaching matters" informally.
In a coaching state we embrace a growth mindset, or a "not-yet" attitude, that we can always get better and do better. We do this with non-judgement, compassion for ourselves and others, and an understanding that each of us are working from a unique starting point. The goal isn't to be perfect, the goal is to continually strive for improvement. That goes for us, and our teams.
How can we support, inspire, and lead our teams to the best possible outcome? In that continual search for our personal best, coaching can have a major impact on ourselves and others.
To go from very good to great, I firmly believe we have to practice and that coaching matters.